Sign up for our Blog!
Home warranties are similar to insurance policies or service contracts insomuch as they cover repair of appliances and home systems in a residential home.
Sold for a fixed term, for a fixed fee which can be annual, quarterly or monthly, some home warranties simply cover appliance packages which include the kitchen and laundry appliances, while others cover additional fixtures, such as HVAC or boilers, or water heaters. Others cover home systems as well, such as:
Air conditioning and heating ductwork
Electrical
Plumbing and Stoppages
Water Heaters
Doorbells
Smoke Detectors
Ceiling Fans
Central Vacuums
Garage Door Openers
Built-in Food Centers
In ground Pools and Spas
Well Pumps
Water Softeners
Septic System Plumbing
Home warranties are typically sold by real estate brokers, builders, or mortgage companies at the time of a home sale, or directly to consumers by home warranty companies.
Home warranties are desirable by homeowners because they provide protection for the unknown, covering repair costs for mechanical breakdowns of covered products.
Why is Compliance in the Home Warranty Industry so Important?
Similar to insurance policies in many ways, home warranties are regulated by some US states.
In those states, home warranty companies must register with the state and become licensed by the state in order to sell and perform services there, and also often put up financial securities in the form of an insurance policy, cash or bonds. There are many home warranty companies in the market that opt to either bypass these state requirements (Oklahoma Regulator Says Unlicensed Home Warranty Company Not Paying Claims) or simply operate in unregulated states. What does this mean for homeowners? Non-compliant home warranty companies are hard to hold accountable. If they're not licensed with the state or haven't put up any financial securities, it's hard for a homeowner to get satisfaction if the home warranty company denies their claim or fails to perform service adequately.
Why is Insurance Underwriting so Critical When Considering Home Warranty Companies?
It's critically important for homeowners who are truly interested in peace of mind to work with underwritten home warranty providers. Underwritten providers are backed by insurance companies. If for some reason the home warranty company is unable to fulfill its obligation, then the insurer is committed to doing so. What's even more important is that an insurer will set a premium for the home warranty plan. Just like your home or car insurance, part of the premium paid is set aside to cover the costs of future repairs. Insurance companies employ scary smart actuaries that look at the expected frequency of failure (how often a product fails at a certain age, in a certain environment) and the severity of the repair (what it will cost to fix it). The frequency X the severity, called loss cost, is what the insurer expects to pay out over time to cover its costs, so is what is reserved to insure future claims are paid.
Consider a scenario, and sadly, a common scenario, where the home warranty company isn't insured and isn't experienced with service delivery. They don't know how to estimate their loss costs and don't reserve funds to cover future repairs, operating on a cash basis. If they run out of cash, your repair doesn't get covered. OUCH.
How do Claim Limits work?
As home warranty companies and insurers create home warranty plans, pricing is based on not only the loss costs but the loss costs based on a certain product, contract, or claim limits and deductibles. Those limits aren't intended to present an opportunity to 'say no!' when a consumer calls for service, but rather to limit cost exposure so that the home warranty can be priced in such as way as to be affordable for homeowners. Much, again like your home insurance, the higher the limit, the lower your cost. The best home warranty companies have a vetted, contracted network of service providers which they use to perform repairs, that could be used by homeowners for other repairs, such as in the case where the claim limit has been met, but the product still needs service.
How do Homeowners Request Service on Broken Products?
Consumers today have different expectations than they did even 5 years ago, related to how they want to interact with service providers. home warranty companies are no different. Homeowners expect to request service via the web, the phone, chat, or email. The best home warranty companies offer omnichannel consumer technologies which meet homeowners on the device in their hands, swiftly and efficiently, delivering a great customer service experience!
How are Service Technicians Managed?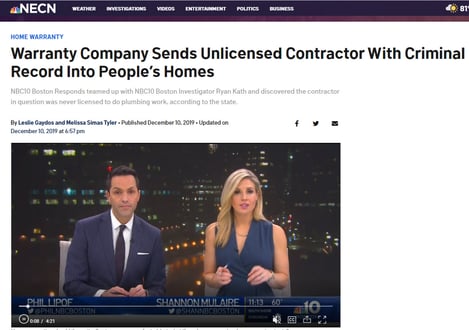 Have you seen news like this one? Home warranty companies are great sales companies. They're great marketers. They're not usually great service people.
A 3rd party contractor network should be contracted, to both lock in repair rates, but also to dictate performance standards and safety requirements.
Say Hello to fixHomz!
We know what you may have heard about home warranty companies. But rest assured, we're not like most home warranty companies.

You see, somewhere along the way, home warranty providers took a wrong turn. They started caring more about profits than customers. They stopped caring if people sat on hold, paid for coverage they didn't need or had to take cold showers in the middle of winter. Seriously, what kind of company does that!? Certainly not one focused on its customers' experiences with their brand!
How FixHomz is Changing the World, One Home at a Time
When we set out to build fixHomz, we knew we had to come up with a better way. FixHomz is dedicated to finding a more modern approach for helping you benefit from a home warranty system that's actually useful. To figure out exactly what was broken, we asked you about your biggest frustrations. Here's what we discovered:
You want one source for all your service and protection

You want clear terms, great technicians, and reliable, hassle-free service on-demand

You want a smooth claims process that works for you, not against you
Of course, why wouldn't you want those things? We want to give you all of that and more. At fixHomz, our goal is to make your life easier.
We go beyond the old "break-fix" warranty model by offering the perfect mix of prevention and ongoing care. Our on-demand service and extended protection for your home products and appliances mean, whether it's a dishwasher repair, home theater installation, or tech troubleshooting, fixHomz has you covered.
Check out our home warranties, extended electronics warranties, and on-demand services by clicking below!